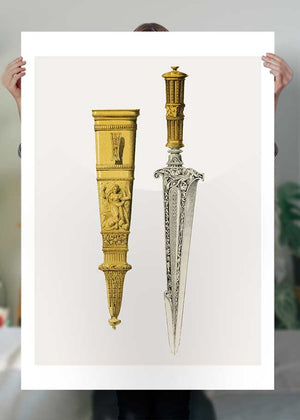 Ancient Dagger Illustration 1
The Ancient Dagger illustration is timeless and classic, featuring a dagger with a classic handle. It's the perfect addition to any gallery wall for lovers of antiquity.
The perfect print for your study or den, these daggers will turn heads in any room they are hung.
In Stock
Free delivery over £45 / €50
Premium Art Paper
Return policy 30 days
Delivery
We ship with Royal Mail and aim to deliver our products to the UK within 5-7 working days. International orders will take a few days longer depending on the location.
Free UK Shipping on all orders over £45
Size Guide