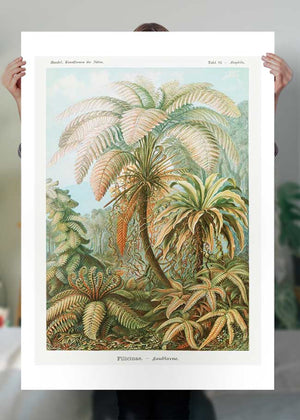 Ferns Illustration Vintage Print
Vintage Illustration print by Ernst Haeckel
This gorgeous illustrated poster from the Ernst Haeckel's "Kunstformen der Natur" illustration of tropical ferns. It's a lovely, high quality reproduction of this vintage giclee print on durable matte or gloss paper with vivid colors. A wonderful addition to any room! This poster is available in seven different sizes including our large oversizsed 100x150cm print.
In Stock
Free delivery over £45 / €50
Premium Art Paper
Return policy 30 days
Delivery
We ship with Royal Mail and aim to deliver our products to the UK within 5-7 working days. International orders will take a few days longer depending on the location.
Free UK Shipping on all orders over £45
Size Guide