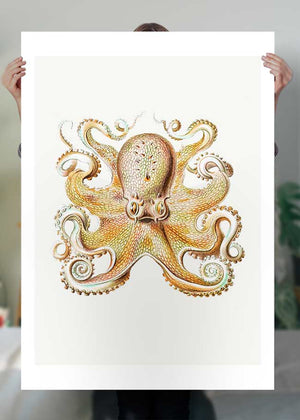 Vintage Octopus Illustration Print
Ernst Haeckel is one of the most influential biologists in history. His illustrations are celebrated for their beauty, intricacy, and accuracy. This reproduction of his vintage illustration print is printed on high quality fine art paper. It makes a beautiful addition to any home or office space.
This beautiful collection features detailed, lifelike illustrations of Octopi, sea urchin, starfish, jellyfish, and other forms of ocean life.
In Stock
Free delivery over £45 / €50
Premium Art Paper
Return policy 30 days
Delivery
We ship with Royal Mail and aim to deliver our products to the UK within 5-7 working days. International orders will take a few days longer depending on the location.
Free UK Shipping on all orders over £45
Size Guide